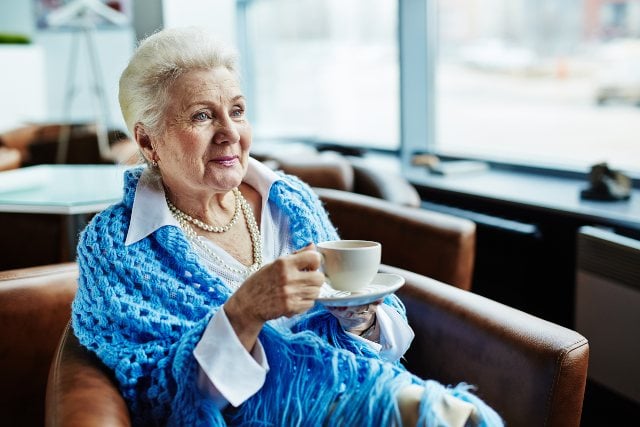 The coming of winter brings shorter days and longer nights. If you are an older adult or a senior, especially in northern climates, weather conditions like snow and ice (let alone the current "new normal") make going outside feel impossible. And amid the safety challenges, seasonal depression can also set in, making winter a particularly difficult time of year for seniors.
Fortunately, certain activities can add metaphorical sunshine to your life throughout the coming months. Research and proven practice suggest that implementing simple lifestyle changes and routines can help seniors maintain their mental health and wellness. We've put together a list of questions to help you examine your behavior and provide ideas on how to infuse self-care into your life this winter.
Physical Wellness
1. Are you eating regularly? Think about your breakfasts, lunches, and dinners. Not only should these meals be healthy and nutritious, but they should also be foods you enjoy. Let food nourish your soul as well as your body.
Do you need to add more color to your diet? Eating across the spectrum, from red raspberries to leafy green Swiss chard, is a quick way to make sure you're consuming a range of vitamins and nutrients. Is there a family recipe you've been craving? Maybe a meal your mother or father used to make? If you can, why not try to make it or request it? You might also consider treating yourself to a hot beverage in the afternoon like cocoa, tea, or coffee. Let this practice become a relaxing, decadent, daily ritual.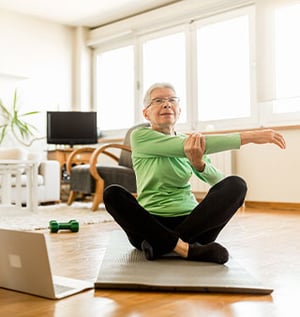 2. Are you staying active? Regular exercise lifts your mood, improves sleep, and boosts energy, in addition to building and maintaining crucial muscle mass and bone support. Remember, exercise shouldn't be something difficult that you dread. Your chosen activity should feel right for you and your body.
Some people love the flowing, graceful feeling of tai chi or the slow, deliberate stretches of yoga. If it's safe to do so, try bundling up and walking through a new park or neighborhood. If you're a music buff, why not play your favorite song and dance around? (And don't be afraid to sing along!) Even new technologies like virtual reality and video games are making exercise feel more like play.
3. Do you feel good in your environment? Winter can be a perfect time to spruce up your house, apartment, or living space. Your home should feel comforting and comfortable.
Do you have photos displayed? Cards and letters from loved ones? What about art that reflects your tastes? Holiday lights aren't just for outside -- they might be just the thing you need to add some holiday cheer to your surroundings. And don't forget to think even closer to home: What are you wearing every day? Clothing has been proven to affect your mood, so do you have clothes that make you feel happy? Even if you aren't getting out and about, you can still wear your favorite colors and textures.
Psychological Wellness
4. Do you practice self-reflection? Winter is an ideal time to reflect and explore your psyche. You might decide to keep a journal just for you or to jot down stories to share with your friends and loved ones during an upcoming visit (or via phone and video call). Taking time to peer into your inner thoughts, beliefs, and attitudes can unlock memories and feelings that have been long overlooked.
Reminisce over your childhood, your favorite trips, and obstacles you've overcome. Think about significant figures like parents, friends, mentors, even past loves. Although reflecting can be bittersweet, it can also be poignant, stimulating, and empowering to revisit all you have done, how far you have come, and the many things you have to cherish.
5. When was the last time you read something fantastic? Do you long to travel to far-off places across space or time? Hopping on an airplane (or in a time machine) may not be feasible for a host of reasons, but the magic of literature and film is that you can travel anywhere you want to go or acquire new knowledge without ever leaving your room.
Research has proven that engaging your intelligence in a new area inhibits cognitive decline. Why not go back to those books or movies you loved as a child but haven't watched in years? Revisiting a beloved character from your favorite book can feel like rekindling a relationship with an old friend. If you liked it as a child, chances are it'll still make you smile today.
Emotional Wellness
6. Are you staying connected to the essential people in your life? You might not be able to gather with friends and loved ones the way you used to, but that doesn't mean that communication needs to stop. It's critical to remain engaged with those whose company you cherish.
There are ways to make the most of virtual visits, and communication doesn't have to be a video or phone call. You might consider sending letters, voice messages, poems, songs, or pictures. Maybe this is the year to consider becoming a pen pal.
7. When was the last time you laughed? Or cried? We all know the adage that laughter is the best medicine. And yet, during the coldest, darkest months, we can become frozen into a state of melancholy.
Think about the last time you laughed, really laughed. What caused it? Was it a witty comic strip, a delightfully ridiculous television program, or merely that mental image of your grandchild scooting down the stairs backward? Laughter feels incredible, but sometimes, traveling to the other end of the emotional spectrum is beneficial, too. According to researchers at UCLA, crying releases stress and restores balance to the nervous system. A tragic drama or a harrowing adventure story might be just what the doctor ordered to help shake your winter blues.
8. Have you tried mindfulness? The benefits of mindfulness and meditation have received much attention in recent decades, but the practices themselves are ancient, stretching across many religions and cultures.
Intentionally cultivating feelings of gratitude, focus, and inner calm can allow you to appreciate your present life fully. Many books, podcasts, and apps can teach you about mindfulness, but its most significant advantage is that you already have everything you need to reap its benefits – a winter day to sit, pay attention to what's around you, and just breathe.
Maintaining self-care as a senior is an ongoing process and one that you will need to tailor for your unique mind and body. These lifestyle practices can benefit you in any season, but the feelings of health and happiness they bestow are felt even more acutely during the darkest months of the year.