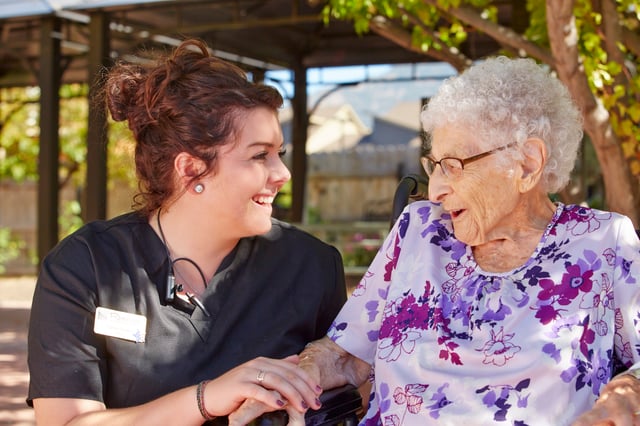 If you're just beginning to explore the vast array of options available for senior living, you're likely to run across some terminology that isn't familiar. There are many concepts, and some seem to overlap. Frankly, it can be a bit confusing, so we're here to help with a list of common terms, phrases, and acronyms you're likely to run across.
A
Activities of Daily Living (ADLs) Self-care activities such as dressing, bathing, eating, and taking medication that occur on a daily basis.
Adult Day Care A service that provides daytime care for a loved one outside the home. A wide range of activities and services may be provided, including nutritious meals, social activities, and medication management.
Aging in Place The concept of remaining in one's home regardless of changes in health or care needs. This can take place in a senior living community or in one's home.
Alzheimer's Disease A medical condition that affects the brain and is a form of dementia. Symptoms can include loss of memory, inability to recognize others, and related symptoms.
Ambulatory The ability to walk independently, including walking with the use of an assistive device such as a cane or walker.
Assisted Living or Assistance in Living A type of senior living community in which residents receive help with daily living, based on their unique needs. Services can include meals, transportation, housekeeping, medication management, laundry, and social activities.
C
Caregiver Any person who assists another in daily livings tasks. Can be a family member, friend, or medical professional. A primary caregiver is the person who is most responsible for assisting the individual.
Continuing Care Retirement Community (CCRC) A senior living community that provides multiple levels of care (a continuum of care) to residents, based on their individual needs. Often these levels are referred to as: independent living, assisted living, and skilled nursing care. Most CCRCs require an entrance fee, which may or may not be refundable, and a monthly fee which varies depending on the type of CCRC contract.
D
Dementia The loss or diminishing of cognitive functions such as memory, reasoning, and thinking that interfere with the person's daily functioning. There are numerous types of dementia, including Alzheimer's disease, Parkinson's disease, and others.
H
Health and Rehabilitation Center A residential setting in which a range of nursing and/or medical services are provided to residents.
Home Health Care Nursing or other medical care provided to an individual in their home.
Hospice Care A service that provides comfort and care at the end of life. (See also Palliative Care.)
I
Independent Living A senior living community in which residents require minimal or no assistance with daily activities. Also referred to as self-sufficient living.
M
Meals on Wheels A service that delivers meals to a person's home.
Medicaid A federal and state funded program that assists low-income individuals with medical care. Not to be confused with Medicare.
Medicare A federal health insurance program for those 65 and over.
Memory Care Specialized services provided to residents of senior living communities who need support due to memory loss, dementia, or Alzheimer's disease.
P
Palliative Care A medical specialty that provides relief from pain and suffering associated with serious illness. It is often (but not exclusively) offered as part of hospice or end of life care.
Physical Therapy The treatment of injury or illness with the use of exercise, massage, or various therapies using light, heat, or electrical components. (See also Rehabilitation.)
R
Rehabilitation Various means of restoring a capacity lost or diminished due to illness or injury. Can include physical, occupational, or speech therapy, among others.
S
Senior Living Community A residential setting specifically designed for seniors, with an emphasis on maintaining a high quality of life through activities, services, and community engagement.