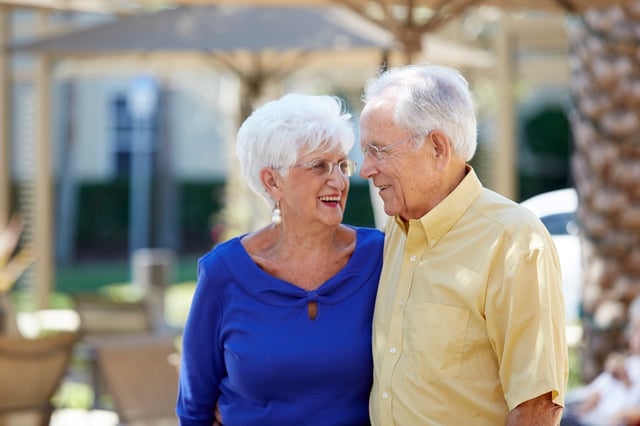 During the search for a comfortable and safe senior care option for your loved one, it isn't uncommon to feel confused or overwhelmed. You want to make sure you make the right decision for your loved one, but with so many options — and so many names for them — it can be hard to make sense of it all. You're not alone.
Thousands of families are asking questions and seeking answers each day when embarking on this journey, and sometimes you just need to know where to begin. We can help! Before you go much further, here are some easy-to-understand descriptions of the various senior care options to help make your search a little bit easier.
1. Senior Apartments
Senior apartments are units in age-restricted communities, typically where all residents are 55 years or older. These apartments may provide additional services like transportation, housekeeping, and meals, but residents are generally independent and self-reliant. Senior apartments offer quieter living options for those who wish to avoid the hustle and bustle of family-oriented communities.
2. Independent Living
Other Names: Retirement Communities, Senior Apartments, 55+ Communities
Independent senior living communities are best-suited for active, healthy seniors who are self-sufficient and don't need hands-on care. In some cases, access to dining, transportation, housekeeping, laundry, maintenance, medical care and a range of intellectual, physical and social activities are provided to the residents of independent living communities.
Sometimes, maintaining a house at an older age can be a burden (i.e. dishes, yardwork, dusting, mopping, laundry, vacuuming, etc.). Not to mention, it can be a bit lonely. Independent living gives individuals the opportunity to eliminate the weight of most daily/weekly chores while also having the opportunity to interact with people their age on a daily basis who share their interests.
Much like residential apartments, independent senior living costs can vary depending on the location of the community, size of the apartment, the services provided and more.
3. Assisted Living
Other Names: Adult Congregate Care, Residential Care Facility
Assisted living communities are for seniors who are mostly independent but may require some assistance with activities of daily living (ADLs) such as personal hygiene, dressing, eating, mobility, etc. However, they don't yet require skilled care — an important distinction.
As the fastest growing senior living option, assisted living communities have the ability to meet the needs of a wide variety of seniors, and that goes beyond activities of daily living. Much like independent living communities, many assisted living residents were seeking ways to eliminate chores (i.e. cooking and cleaning) to instead spend their time enjoying the activities they truly enjoy with other people their age.
In terms of cost, there are many variables to consider making it difficult to provide specifics. The expenses tend to be higher than independent living costs due to the extra services required.
4. Memory Care
Other Names: Alzheimer's Care, Dementia Care
The main driver for transitioning a loved one to memory care tends to be safety. Memory care communities are secure areas, sometimes as a separate wing within an assisted living community, to prevent residents from wandering and ensure they are receiving proper care.
In terms of Alzheimer's disease or dementia, proper care usually means 24-hour supervised care from specially trained staff. In addition to many of the amenities and services offered in independent and assisted living communities, many memory care communities provide access to art therapy and/or music therapy.
The costs of memory care are typically higher than independent or assisted living because it requires 24-hour supervised care by trained staff members.
5. Skilled Nursing Care
Other Names: Skilled Nursing Facility
A skilled nursing care facility offers a high level of medical care provided by trained professionals, such as a registered nurses and physical, speech, and occupational therapists. Short-term options for those with rehabilitation needs are available, however there's also long-term care available for individuals who require frequent or around-the-clock care. Examples of skilled nursing services include intravenous (IV) therapy, physical therapy and monitoring of vital signs.
6. Home Care
Other Names: In-Home Caregiver
Home care may be the most common form of senior care in the United States. Home care is well-suited for seniors who want to continue living at home, but also need assistance with ADLs, transportation and other tasks around the house.
In-home caregivers can range from weekly visits to live-in care, depending on the level of need. If you or your loved one requires a high-level of care, this may not be the right option due to the fact that that home care is usually charged hourly.
7. Adult Day Services
Other Names: Adult Day Programs, Adult Day Care
Adult day services, or adult day care, typically means spending a half-day or full-day at an adult day care center, assisted living community or memory care community. Generally, the services offered are entertainment or social activities, therapy, health care services, and simple monitoring. Sometimes, adult day care services also provide transportation from the individual's home to the community and back again.
Most family members seek this type of service for their loved ones as a way to give themselves a break from their daily caregiving duties. However, it's also an opportunity for the loved ones to participate in activities and mingle with other seniors.
Once again, the costs vary depending on the services provided; however, this is one of the least expensive options for obvious reasons.
8. Respite Care
Respite care, or short-term care, is when someone plans on staying at a senior living community only for a short time. It may be a few days or even a week. Respite care may be the perfect choice following an injury as a means to rehabilitate, or as a time for family caregivers to take a vacation/simply rest and recharge.
The cost of respite care depends on the services required, duration of the arrangement, and, of course, the quality of community where you or your loved one will be staying.
For more information, please don't hesitate to contact us. We are delighted to help you get started in the right direction.